Landscape Lighting Installation Services for Boca Raton Residents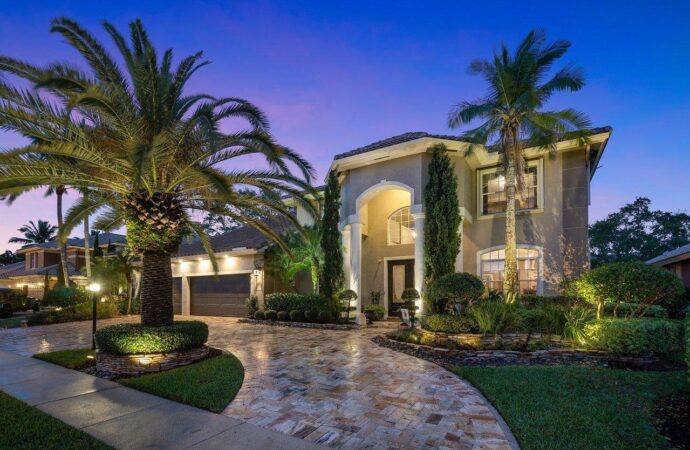 Property owners and contractors often forget to consider how important landscape lighting is in ensuring that every corner of your outdoor living space is visible and that you can actually enjoy the area no matter the time of the day. In fact, it should be common knowledge that lighting is what brings life to the entire space in the end, as you get to have a stunning landscape with the lights and features installed in the right locations and make sure all the details are enhanced and highlighted in the process. At Pro Hardscape Team of Boca Raton, we understand the importance of having contractors who keep this in mind, and we can assure you that our team is not just concerned about the design of the hardscape but also about ensuring that every detail is visible and that there is enough light to ensure that no one falls or trips and you can have a beautiful result day and night.
Lighting is an integral part of landscape design. Without it, beauty and functionality are not possible, and you will usually have problems being able to enjoy the area, even when you have some features such as firepits installed in your outdoors. This lighting feature is something we insist on because it expands and gives you more options for outdoor living spaces.
We will create a complete design for you and help you enhance the beauty of your outdoor space. Smart lighting can give you a new perspective on the outdoors that you might not even notice during the day and will bring a different value and ambiance to the entire result and design.
Isn't It About Placing Some Lights?
Contrary to popular belief, lighting is not about putting lights everywhere and hoping for the best. If that were true, then it would simply be about having a whole reflector on your property and lighting every space with no care whatsoever.
Lighting is not about making everything look better by just having a light bulb in a single place, but rather ensuring that the features you have installed outdoors stand out. You may have seen pools with great lighting options and blue lights around them. Some trees during Christmas are great examples of how landscape lighting can help bring the ordinary to the extraordinary. This creates the perfect atmosphere for people to enjoy, and believe it or not; it can be more difficult to figure out the best placement than building other hardscape features.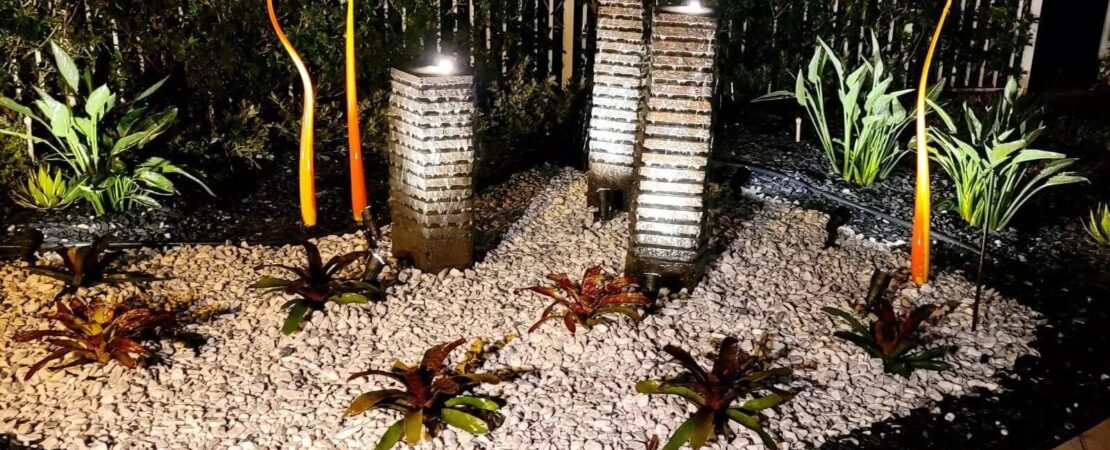 The design and placement of light fixtures in a room will determine what is most important and best, so the same applies to outdoors as they won't be placed in random areas or locations.
As with the pool, fixtures around the water and within the water are always a good idea to help people see where they are going and avoid any accidents, which means this option meets not only an aesthetical purpose but also a functional and safe one.
It is crucial to decide what elements will be most important in your landscape design when working with it. It is up to you to decide what is most important for you. We will help you create a plan of how to highlight it with the fixtures, and if you're unsure, we can take care of the entire placement.
For hardscaping such as pergolas and outdoor kitchens, the idea behind it is to create a lighted environment. This allows for more activities to be done and can also allow you to relax and enjoy the space.
There are many lighting options. Usually, they are all used in the same landscape. It is just a matter of focusing on the most important areas. We will install the following lighting fixtures for you as requested or needed based on how your landscape is distributed and designed:
Deck lighting.

Wall lighting.

In-ground lighting.

LED strip lighting.

Spike lights.

Warm and cool lights.
What You Ought to Remember About Landscape Lighting
Although aesthetics and how the entire space will look is crucial and the point of having this service, how long the lights last is what we really care about, and you should care as well. Because they are going to be outdoors, it is common for them to be exposed to all weather conditions, including rain, snow, storms, and any other events that may occur in your city, which puts more pressure on how the design and fixtures should be placed and if they are of high quality.
It is common knowledge that you will have the main problems with the rain and the sun. We need to make sure that the lighting fixtures are not wasted or damaged during installation or shortly after.
Landscape lighting is a complex process. Once we have identified the best tools, materials, or products, we begin to think about how we can make it work and what we can do about it for you.
We won't use low-quality products or materials. Most people believe that the items that can be bought on any market are sufficient. In reality, it is better to choose high-quality alternatives even when they are a bit pricier. You will end up with low-quality and plastic products that easily break down and deteriorate if not, which can lead to higher costs, potentially dangerous situations, such as water coming in contact with your electricity and lights, and other situations that you don't want to face or encounter.
Our job is to design the installation and make sure you are satisfied. It should be long-lasting and durable so that you get the best value for your money and not only a beautiful short-term landscape.
For assistance in this matter, please contact us in Boca Raton and all surrounding cities. We will guarantee a safe and clean installation that matches your landscape and design. We will work with you to create a lighting solution that brightens your outdoor living space and brings all the light to every time you spend with your family or decide to be by yourself in this stunning space.
Below is our list of additional services:
Here is a list of our services you can get at Pro Hardscape Team of Boca Raton:
---