Outdoor Kitchen Services for Boca Raton Residents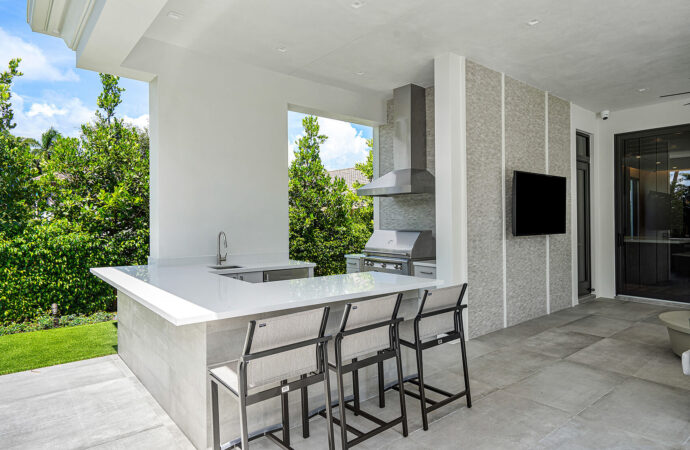 A great addition to any property is having your own outdoor kitchen, so you don't always have to be indoors and unable to enjoy the day as much as you'd like. You can enjoy the great weather and gather people around you, be it your family members or friends. Instead of spending all day in the kitchen, you can invite everyone and be there while they see you cook or even lend a hand as they don't have to "sacrifice" being busy while others have fun by themselves. Our team at Pro Hardscape Team of Boca Raton can help you install and build your outdoor kitchen; no matter how small or large it will be or the space available, we will make it possible just for you.
It is possible to have outdoor kitchens, but the entire process of having one can be more complicated than you might think. At the same time, the entire state of Florida is known for having good weather and is well-known for its sunny days and stunning beaches. As a result, it can also be subject to hurricanes, storms, or just your regular rain. Thus, it is important to have a kitchen that can withstand all weather conditions and be available for use whenever you need it and want to go outdoors.
It is important to cut down on time spent cleaning and preparing the outdoor kitchen as well. It doesn't make sense to have a beautiful outdoor kitchen if you can't work with it or if it takes up too much of your time. It should be a new feature that brings happiness to you, not more headaches and work that will steal the time you could spend with your family or just dealing with more important tasks and must-do.
Our contractors are there to ensure that everything is in order. This includes not only the location of the outdoor kitchen but all elements that will come before or after it, so you don't have to worry about anything of the above.
We need to know what your priorities and budget are so that we can plan how to bring your ideas to life. We will not only make sure you are happy but also address all issues that an outdoor kitchen can bring to your home.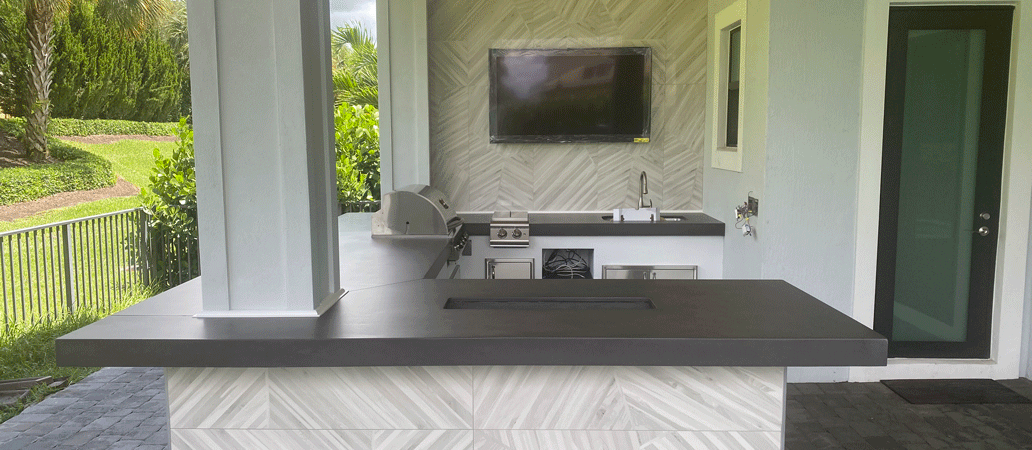 Where to Begin with Your Outdoor Kitchen
You want this process to be enjoyable, so make sure you have a clear budget before you contact us. If you don't have it, we can help you work around it so you come up with an idea of how much you're willing to spend. This will prevent you from having to go through the tedious process of increasing your costs or not knowing your limits, so you end up spending more than needed or are unable to differentiate when more is necessary or not during this project.
Clients usually have an idea of how much they want to spend. However, it is not the same as having a budget that will help them set the maximum and limit their options.
Talking to someone about what you would like to do and how much money you can afford is a good option if you are having trouble. We can help you set a realistic budget around this and ensure you get all the details with it.
Because of the location, the build method, the appliances, and the labor costs involved, outdoor kitchens can be costly. First, outdoor kitchens can have different types of appliances and kitchen designs. We must take safety precautions and ensure that the kitchen is safe in all weather and conditions so you won't have to deal with accidents or well-known explosions due to gas tubes or any other connections.
You can then navigate the whole process of designing your kitchen, making a plan for the outside space, and determining the best location in your space to place the kitchen with our team. While you decide on the appliances and the layout of the kitchen, we will be working on how to bring everything together and achieve a stunning result.
You Need to Hire Contractors for Your Safety & Investment
Most homeowners, especially those who are new to the area or consider outdoor kitchens as part of some sort of hobby, will consider DIY and begin the project as soon as possible. It is often because contractors are expensive, and it can be difficult to find the right ones, but we never recommend doing so beyond the fact of being the contractors in the industry.
Pro Hardscape Team of Boca Raton has a great team. Although it may seem biased to say that we recommend contractors simply because we are them, we do so for your safety and assure you this will be worth it once you get everything done in time, don't have to risk yourself and others, and can get everything for even less.
Our contractors are qualified and experienced. They will meet your deadline, and we won't make you wait for your kitchen to be finished, especially if you have pergolas or other places where people will gather and may be included in the entire design. We care about how you approach this project. We will do everything possible to make your outdoor kitchen a reality in no time.
We recommend that you hire contractors because kitchens can be difficult to install, especially outdoors. These contractors will help you install gas lines, protect them from weather, place the connections correctly, and allow you to reuse the kitchen every single day with minimal effort and worries.
These hardscape features require a lot of work. We want you not to have to worry about ongoing repairs or maintenance. All it takes to install and prepare the space for appliances and features to protect your kitchen when it's not in use will be handled by our professionals as well.
Just make sure to bring the different opportunities and designs to the table that will be a mix of everything you request and need. From there, we will start working on making it real.
Below is our list of additional services:
Here is a list of our services you can get at Pro Hardscape Team of Boca Raton:
---