Expert Tree Services for Removal & Trimming in Boca Raton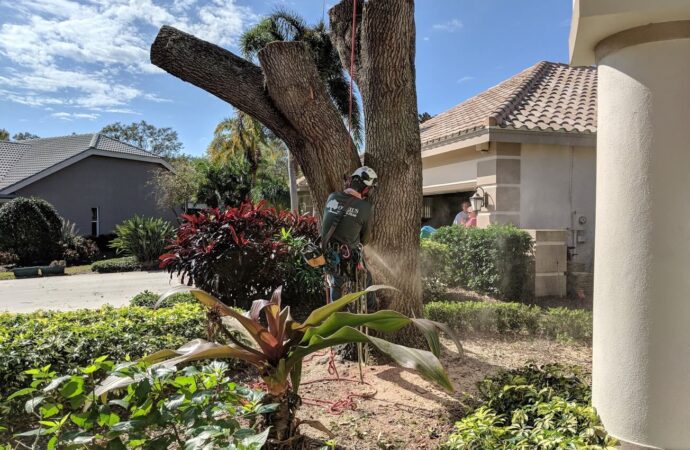 Have you seen an increased population of termites around? Chances are, there's a stump left to rot outside your house or maybe even at your neighbors. Did you know that rotting stumps can attract pests such as termites or carpenter ants? There are also cases where snakes are increasingly spotted in the area where stumps are left behind. Why? Because rotting or decaying stumps is the perfect place for these pests to nest. Having said that, it is important to maintain your trees. If there needs to be any tree removal done, it is also important to have the entire stump removed as well so that you aren't a contributing factor to the increased population of such pests in the area.
Don't have the time to care for your trees? Or maybe you lack the know-how? We, Pro Hardscape Team of Boca Raton, would be perfect for the job! Our team consists of individuals who are extremely passionate about designing your landscape. We could easily be the most flexible and understanding team you could ever have hired. We believe that customer satisfaction is the most important factor here.
Let us know what kind of tree service you would need. Regardless of whether it is tree removal, tree trimming, tree pruning, stump grinding, stump removal, tree planting, etc. No job is too big or too small for us. If you need help with your trees, just let us know and we will direct you to our team members who are experts in arboriculture. We are confident that they would be more than happy to support you in this area. If you ask, we are sure that they would also be eager to share some tree maintaining tips with you.
For your information, we also have other services available for you, such as Landscape Design & Installation, Outdoor Patios, Outdoor Pergolas, Stonescapes, Residential Landscaping, Commercial Landscaping, Irrigation Installation & Repairs, Drainage Systems, Landscape Lighting, Outdoor Living Spaces, Tree Service and last but not least, Lawn Service.
So, what do you say? Are you interested in any of our services? Let us know and we will be right with you! Your satisfaction is our top priority.
Below is our list of additional services:
Here is a list of our services you can get at Pro Hardscape Team of Boca Raton:
---