Expert Outdoor Pergola Design & Installation Pros in Boca Raton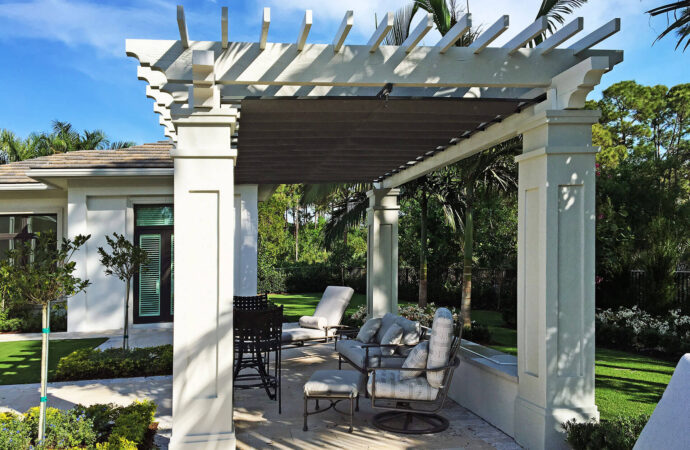 Here are a few reasons for you to consider having a Pergola built in your backyard: It adds beauty to your yard. Not only that, but it also gives off a romantic vibe to your Outdoor Living Space. Besides this, chilling at your Pergola allows you to enjoy the breeze while it also protects you from the harsh sunlight. You may also want to consider having your Pergola built to be an outdoor kitchen. Have it by your swimming pool (if you have one) and you can throw the perfect Barbeque Pool Party. Remember to pay your Pergola a visit at night, star watching can be a very romantic thing to do with your partner.
Do you need help building your outdoor pergola? Our team consists of individuals who are extremely passionate about designing your landscape. We could easily be the most flexible and understanding team you could ever have hired. We believe that customer satisfaction is the most important factor here.
However, we do feel the need to advise you on certain design considerations. For example, when we are gathering the design requirements for your Pergola, we feel that we owe it to you to provide our professional feedback, such as whether your requirements are feasible or if there is a more suitable design plan to unleash your landscape's maximum potential. Don't get us wrong, we are merely providing our professional opinion. The final say is still yours, we will only proceed with your Pergola Project once we receive an approved design from you, which you would like to see come to life.
For your information, we also have other services available for you, such as: Landscape Design & Installation, Outdoor Patios, Outdoor Pergolas, Stonescapes, Residential Landscaping, Commercial Landscaping, Irrigation Installation & Repairs, Drainage Systems, Landscape Lighting, Outdoor Living Spaces, Tree Service and last but not least, Lawn Service.
So, what do you say? Are you interested in any of our services? Let us know and we will be right with you! Your satisfaction is our top priority.
Below is our list of additional services:
Here is a list of our services you can get at Pro Hardscape Team of Boca Raton:
---